MOZYR – ALMELO (THE NETHERLANDS): PROFESSIONAL CONTACTS AND PERSPECTIVE COOPERATION
Details

Published on Thursday, 05 July 2018 07:20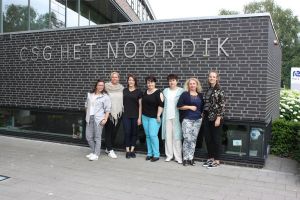 Participation in educational, social and cultural exchange programmes is the best way to establish cooperation, find out the fields for further networking, create new research/ theoretical/ methodological approaches for joint projects.
MOST is an EU funded project to enhance people-to-people-contacts between Belarus and the EU for promoting mutual understanding and exchange of best practice. It provides professional exchange and mobility opportunities between Belarus and the EU.
Within MOST project 4 representatives of MSPU named after I.P.Shamyakin (Tatsiana Paliyeva, Irina Zhurlova, Olga Dubodel, Tatsiana Loban) participated in the mobility project. On June 11 – 15, 2018 MSPU staff members got a lucky chance to visit CSG Het Noordik in Almelo and University of Applied Sciences in Zvolle.